Doubletree Tucson Reid Park
445 S Alvernon Way, Tucson, AZ
It is a tradition for gallery owners and designers to gather in Tucson every year and search for new and exciting beads, gemstones, and jewelry –and To Bead True Blue is at the top of the list, showcasing artists... READ MORE
Jan 28 - Feb 4 • 2017 • 10am to 6pm
Some Exhibits Jan 28-Feb 2 or 3-4
See Fast Facts for Details
Show Begins in 94 Days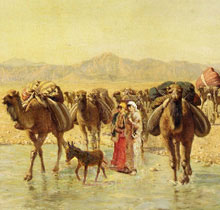 ...chosen by invitation and juried application. All told over 700 artisan booths, galleries, and merchant displays are presented by well-known artisans and emerging designers, with beadmakers, jewelers, metalworkers, gemcutters, clay and fiber artists, weavers, and hat makers. The product list encompasses rarely-exhibited lampwork glass bead masterpieces, hand-crafted artistic polymer and silver clay beads, vintage, and antique beads, as well as a vast assortment of artisan resources, components and hard-to-find boutique arts such as hand-dyed silks, hand-woven textiles, handmade accessories, handbags, and embellished trims. By consistently offering high-quality merchandise to gallery owners and designers –To Bead True Blue defines what a bead show should be.
Christi Friesen
The detail in these hand-sculpted, Aztec-themed, polymer clay beads, art vessels, necklaces, and pendants, reminds us of ancient hardstone carvings. There is no limit to the possibilities. Beads are embellished with stuff like gemstones, semi-precious stone beads, crystals, fossils, natural pearls, glass beads, shell, found objects, vintage elements. www.cforiginals.net

Clay River Designs
We are a Colorado company specializing in the design and production of handmade porcelain beads, porcelain pendants, and jewelry since 1973. The porcelain pendant designs begin with our original drawing, and progress through multiple firings, polishings and glazings, resulting in an exclusive signature piece of art. www.clayriverdesigns.com
Grace Lampwork Beads
Grace Ma's handmade lampwork glass beads are made with careful quality control to insure their consistent beauty and quality. "I love to share my vision and design with others. With my beads, you can turn them into a piece of beautiful jewelry. There is too much similarity in the commercial world. These beads will show off your personality." www.gracebeads.com

Starman, Inc.
The premium collection of Wholesale Czech fire polish, handmade Czech lampwork, Czech crystal, hand pressed Czech beads, rhinestone findings, glass pearls, cut glass beads, and TOHO seed beads, size 11, 15, 8 and 6 along with bead mixes and kits. Wholesale Only.
www.czechbeads.com